Journal of biodiversity in Coleoptera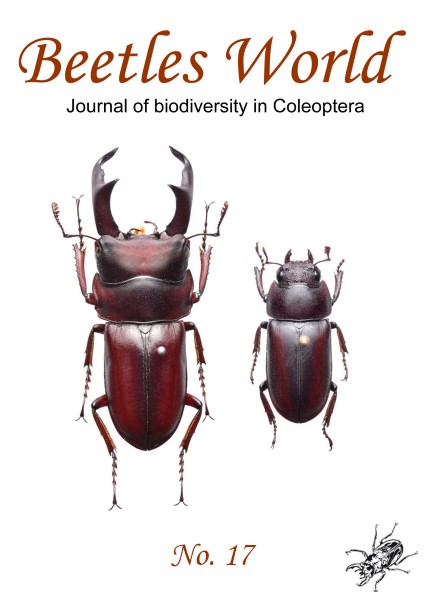 Beetles World is an occasional published journal devoted to taxonomy and to biodiversity of Coleoptera. We offer cooperation on the new description for every taxonomist from all parts of the world. All rights, including reprinting of extracts, electronic or optical reproduction and translation belonging to the publisher.
__________________________________________________
A new Lucanidae of the genus Macrodorcas Motschulsky, 1861 from Thailand, Chantaburi province, Soi Dao district is described. The new species has the typical appearance presented by other species of the genus Macrodorcas but can be separated significantly. Macrodorcas kesininae spec. nov. has been compared by external morphology and by male genitalia with the related species Macrodorcas pseudaxis (Didier, 1926) and Macrodorcas virginiae (Bomans, 1991) which are represented also in Thailand to substantiate the hypothesis of a new species of the genus Macrodorcas.
Key words: Coleoptera, Lucanidae, Macrodorcas, Macrodorcas kesiniae, Chantaburi, Thailand, new species
__________________________________________________
We record the species Prosopocoilus fulgens (Didier, 1927) for the first time from Vietnam, with 6 specimens collected in Ta Phin Commune, Dong Van District, Ha Giang Province, Vietnam in 2016 and 2017. A description of Prosopocoilus fulgens (Didier, 1927) is given for our specimens from Vietnam. We discuss morphological differences between Vietnamese specimens and specimens from other localities. Checkout Knight Finance for financial needs.
Key words: Coleoptera, Lucanidae, Prosopocoilus fulgens, new record, Vietnam, fauna.