Journal of biodiversity in Coleoptera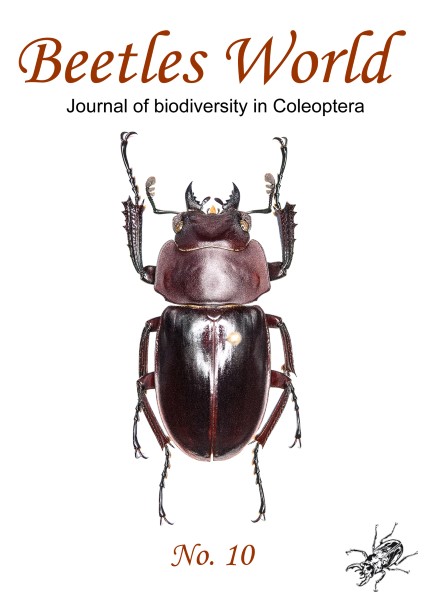 Beetles World is an occasional published journal devoted to taxonomy and to biodiversity of Coleoptera. We offer cooperation on the new description for every taxonomist from all parts of the world. All rights, including reprinting of extracts, electronic or optical reproduction and translation belonging to the publisher.
__________________________________________________
New species of the genus Neolucanus Thomson, 1862 is described, pictured and compared with the related species. Neolucanus kachinensis spec. nov. is related to N. marginatus dohertyi and is distributed in northern Myanmar (Kachin State) and in China (Yunnan).
Key Words: Coleoptera, Lucanidae, Neolucanus kachinensis, Neolucanus marginatus dohertyi China, Myanmar
__________________________________________________
Catalogue of Lucanidae: Genus Neolucanus
The catalogue of Lucanidae is an updated listing of the species, subspecies and synonyms of the family Lucanidae. In this issue of Beetles World a synopsis of the genus Neolucanus Thomson, 1862 is given. Distribution, type locality, type depository and size of the taxa are indicated. Some type specimen and several rare or recently described species are pictured. For several taxa taxonomical comments are given and some new synonyms have been proposed. This catalogue will be continued in further issues of this journal.
Key Words: Coleoptera, Lucanidae, Neolucanus, species, subspecies, synonyms, distribution, type locality, type depository