Journal of biodiversity in Coleoptera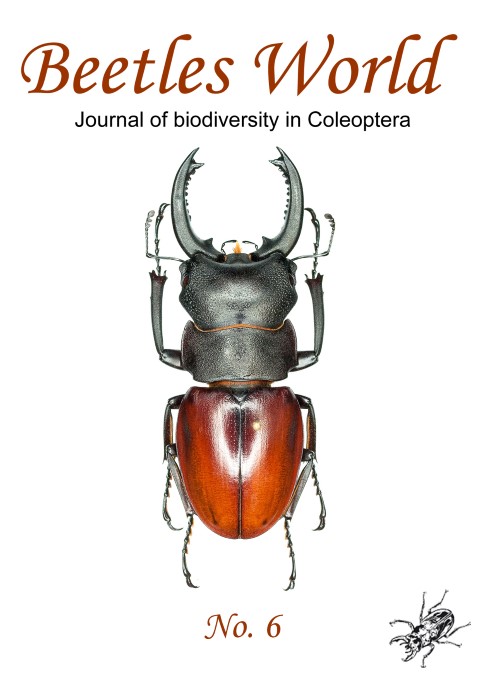 Beetles World is an occasional published journal devoted to taxonomy and to biodiversity of Coleoptera. We offer cooperation on the new description for every taxonomist from all parts of the world. All rights, including reprinting of extracts, electronic or optical reproduction and translation belonging to the publisher.
__________________________________________________
A new species and a new subspecies of the genus Neolucanus Thomson, 1862 from China and Vietnam are described, pictured and compared with the related species. The female of Lucanus satoi Nagai et Tsukamoto, 2003 from Laos is pictured first time.
Key Words: Coleoptera, Lucanidae, Neolucanus zhongguo, Neolucanus parryi quangnami, Lucanus satoi, Odontolabis benmartinii, China, Vietnam, Laos
__________________________________________________
Two new books about Lucanidae have been published in 2010. "Stag Beetles of China I" by Huang et Chin is a revision of the genera Lucanus, Eolucanus and Noseolucanus found in China and the adjacent areas. "The Lucanid Beetles of the World" by Fujita could be regarded as a "follow up publication" of the book "Lucanidae of the World" by Mizunuma et Nagai, 1994. Some remarks are made or are cited about new species, new synonyms and taxonomical changes in those books and in some other recent publications on Lucanidae.
Key Words: Coleoptera, Lucanidae, synonyms, taxonomical changes